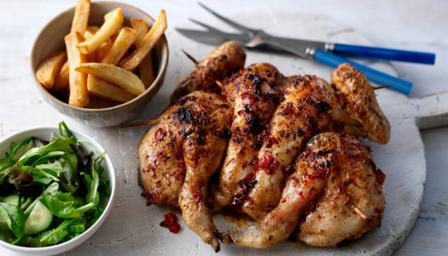 The ultimate summer dish. Barbecued the Portugese way with hot sauce and served throughout Southern Portugal but is at it's best at restaurants in the Monchique area. This recipe is from A Rampa on the Monchique – Foia road and is considered to be the best restaurant to enjoy this dish.
The Recipe (serves 4)
2 Small Chickens (butterflied), Piri Piri Sauce ( If you cannot buy Portugese piri piri sauce then a substitute is Tabasco)
Salt Sauce: 50g Salt, 30g white wine, .125 ltr water, 3 cloves garlic.
Oil Sauce: 100g butter or healthy option such as flora, .125 vegetable oil, .125 ltr brandy, 50g tomato paste, 1/2 head of garlic, 15g parsley.
The Method
Light barbecue ensuring there are sufficient coals to lay both butterflied (cut through the back) chickens side by side on the grill.
Prepare the salt sauce in a small bowl and add the garlic either crushed or chopped.
Prepare the oil sauce by by combining the melted butter/or substitute, oil, brandy, tomato paste, crushed or finely chopped garlic and chopped parsley.
Lay the butterflied chicken approximatly 150 cms (6 inches) above the coals. Brush both sides of the chicken lightly with the salt sauce using a pastry brush.
Cook for approximatly 20 minutes turning frequently. 10 minutes before the chicken is cooked baste with the Piri Piri (or Tabasco) sauce adding sufficient to taste. The total cooking time should be around 30 minutes.
Brush with the oil sauce and finish by grilling for a further 2 minutes. The chicken should now be golden  and look delicious
Cut up the chickens (or serve as a half).Serve simply on a platter and garnish with salad (salada mista) and  hand cut medium fries (batatas fritas).
Delicious!!