Roast Beef and Yorkshire Pudding Recipe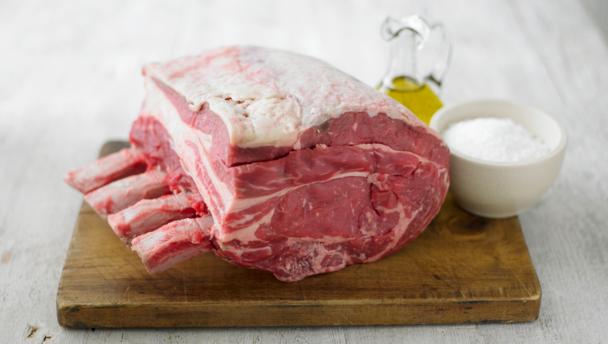 Ingredients
For the beef
1 x Rib of beef, Rib Eye Roast, Sirloin roast, Topside joint
2 tbsp vegetable oil
2 tbsp English mustard powder
2 tbsp sea salt
1 tbsp freshly ground black pepper
2-3 onions, halved
mixed root vegetables, such as carrots or parsnips, roughly chopped
For the Yorkshire puddings
4 heaped tbsp flour
½ tsp salt
2 free-range eggs, beaten
milk, to bind
2 tbsp sunflower oil
olive oil or goose fat, at room temperature
Preparation method
Preheat the oven to 220C/430F/Gas 7.
Heat a large frying pan over a high heat. Rub the beef with the vegetable oil, then sear in the hot pan for 3-4 minutes, turning occasionally, until browned all over. Remove from the pan and set aside.
In a bowl, mix together the mustard powder, sea salt and freshly ground black pepper. Rub the mixture all over the seared rib of beef.
Place the halved onions and chopped root vegetables into the bottom of a roasting tin. Rest the rib of beef on top of the onions and vegetables. Pour enough water into the tin to come 1cm/½in up the sides.
Roast the beef in the oven for 30 minutes, then reduce the oven temperature to 160C/320F/Gas 2. Then, for every kilo of meat, cook for a further 25 minutes (for medium; for rare, cook for 20 minutes per kilo; for medium, cook for 30 minutes per kilo; for well done, cook for 40 minutes per kilo).
To test whether the beef is done to your liking, insert a meat thermometer into the centre of the beef 15 minutes before the end of the cooking time. The meat will be ready when the temperature reading reaches the desired temperature within 15 minutes (40C/104F for rare; 50C/122F for medium rare; 60C/140F for medium; 68C/154F for medium well; 72C/162F for well done). As the beef will continue to cook after it's been taken out of the oven, remove the beef when it is about 10C/50F under the desired temperature.
Set the beef aside to rest for at least 15-20 minutes.
Increase the oven temperature to 220C/430F/Gas 7.
For the Yorkshire puddings, sieve the flour with the salt into a mixing bowl. Make a well in the middle, then add the beaten eggs. With a fork, draw the flour into the beaten egg to combine. When the egg and flour are well mixed, gradually whisk in the milk, until the batter has the consistency of single cream. Set the batter aside to rest for one hour.
Pour in 5mm/¼in of oil or goose fat into the well of a Yorkshire pudding tin. Place into the oven for 5-6 minutes, or until it is smoking hot.
Give the Yorkshire pudding batter a stir, then carefully pour into the tin (it may spit). Bake the Yorkshires in the oven for 30 minutes, or until risen and golden-brown.
To serve, carve the beef into thick slices and arrange on serving plates alongside the Yorkshire puddings.